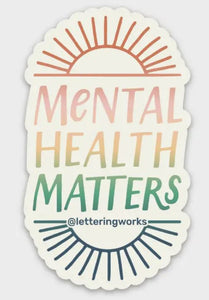 Mental Health Matters Sticker
Regular price
$ 5.00
$ 0.00
Unit price
per
3'' die-cut vinyl sticker is a bright and cheery reminder that your mental health matters!
From Our Vendor Lettering Works:
Through the mental health matters collection, Lettering Works aims to promote positivity around therapy and prioritizing mental health in different forms. The designs are meant to be conversation starters and contribute to the ever-evolving, overarching need for more emphasis to be placed on mental health. We want everyone to have the ability to realize their full potential, cope with stresses of life, work productively, and make contributions to their communities and hope these designs encourage just that.